Quality Control
In our partner factory, the primary scientists have many years experience in China top dietary supplement companies. They are experts in all aspects of the dietary supplements products& herb extract, including the quality control from raw materials to finished products. We provide high quality products to help our clients in Europe, South America and USA boost their sales. It has more than 40 years experience in dietary supplement & herb extract industry in China . The experts in the factory who know all aspects of manufactory processing of herb extract, pure functional herb soft capsule, hard capsules, and tablets. It brings together quality processes and quality materials to ensure that the customers receive premium quality products that are consistent with their specified formulations and requirements.
The plant is in compliance with GMP, and have been granted quality certificates like TGA, GMP, BRC and KOSHER.
Annual production capacity:
Hard capsule: 2.5 billion
Softgel capsule: 2.0 billion
Tablet: 2.0 billion
Herb Extract: 1500 tons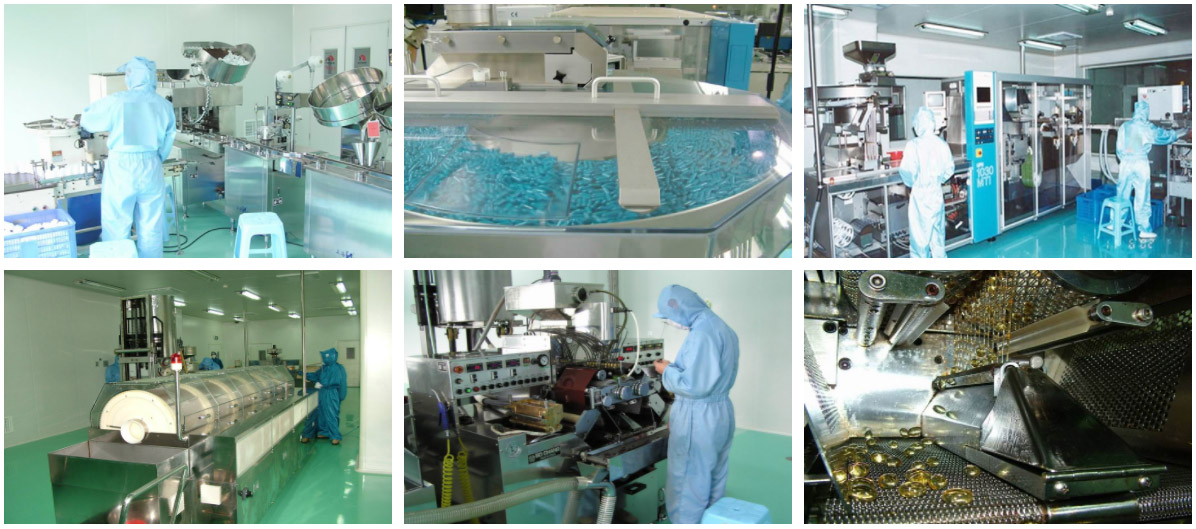 We have the unique feature in the respect of contents preparation, addition of trace element, rubber preparation, color matching, selection and addition of essence, stability, safety and uniformity of products.

The excellent rubber formulation and technology may ensure that the finished soft capsule shell is matched with the contents with the different physicochemical properties.
The disintegration slow solutions existed in the production and storage process of the soft capsule product.
S uperior Te chnology

We can produce:

Soft Capsule
Conventional pure oil softgel , two-color softgel , enteric dissolution softgel, intant dissolution softgel, self emulsified softgel, micro emulsified softgel, solid-liquid suspension type softgel, chewable softgel, chewable softgel, contents water dissolution softgel, dispersive softgel, foam softgel.
Hard Capsules
Gegen Capsules, Chitosan Capsules, Soybean Isoflavones Capsules, Water Soluble Pearl Powder Capsules, Consumed Bovine Marrow Powder Capsules, Green Tea Capsules, Nano Pearl Powder Capsules, Ginkgo Capsules, Purslane Capsules, Pine Pollen Capsules, Konjac Capsules, Katsuba Energetic capsules, digestive enzymes capsules
Tablets
Children calcium zinc iron tablets, melatonin tablets, vitamin C + E tablets, VE + calcium (tablets), bovine colostrum calcium tablets, dietary fiber tablets, spirulina tablets, multi-dimensional tablets (ladies + men + middle-aged + children) , platinum partner tablets (amino acids + vitamins + minerals), pearl effervescent tablets, nutritional multi-foam tablets, apple vinegar tablets, selenium tablets, composite collagen tablets

Service Procedures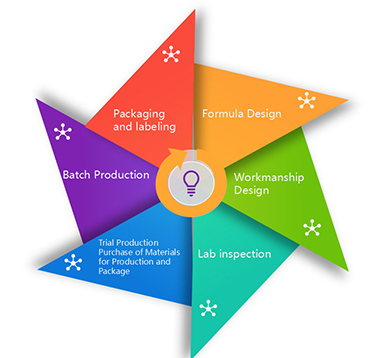 We are committed to partnerships with customers around the world. No matter you're new to this industry or are planning on adding a new product to your line, we will try our best to support you. Fluent English and Spanish service are waiting for you!
Let's Benefit With Ensured Quality and Share Health With Worldwide !